For adults we can provide a range of activities or bespokeevents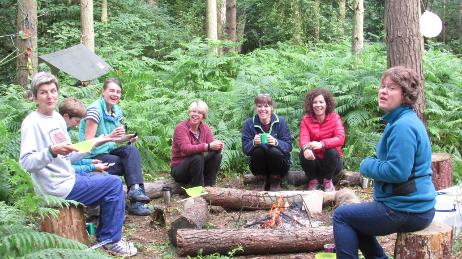 Jobs
Forest Quest has opportunities for adults to work part-time with us. We run a training programme on a volunteer basis to enable anyone new to forest schools to learn the basics to become an Assistant with us. This can develop through external training to become a Group Leader running activities whilst under the guidance of our experienced Leaders. We also have opportunities for trained Forest School Leaders, again on a part-time basis.
Interested? Send us a message.
Bushcraft weekend for adults.
This is a totally hands-on course, designed to let participants have a go at some of the exciting and useful bushcraft skills used in a woodland setting. With instruction from Andrew in:
Greenwood working - use various hand tools to make something to keep.
Fire lighting - build and start a fire using various methods and create fire by friction using a fire bow drill.
Nature discovery - the types and uses of trees in the wood, foraging, the birds and animals in the wood, and have a go at a 'sit spot'.
Open fire cooking - prepare and cook your meals over an open fire.
Bivouac- make your own shelter and sleep in it overnight.
Timings. The course starts at 09:00 on Saturday and finishes at 16:00 on Sunday.
Camping Out. The course includes staying out overnight and sleeping in your shelter! However, if you prefer, you can go home for the night.
Kit. You will need to wear warm clothes and boots or wellies and bring a spare set of clothes and waterproofs. You will also need a sleeping bag, roll mat and a torch (although we can provide you with these if necessary), and your wash kit. You are welcome to bring other kit if you wish such as eating equipment.
Food. All food and refreshments will be provided, any special particular dietary requirements will be accommodated.
Bookings. Ideal for a group of friends to spend an exhilarating weekend outdoors. whilst learning new skills.
Send us a message if you are interested .